E-commerce businesses have gained a real boost due to the amazing scalability, flexibility and efficiency that Magento brings to the table. Magento serves not only as an e-commerce development platform but indeed as the complete e-commerce solution for your business. You can have a better idea of Magento current position by taking a glance at the global list of e-commerce solutions as given below.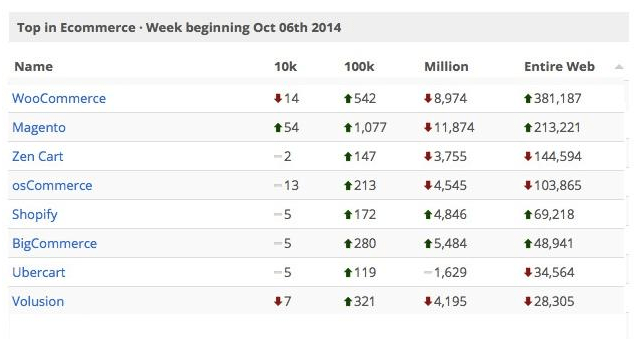 How Magento Gains Edge Over Other E-commerce Platforms
An e-commerce store built using Magento has the capability of providing better user experience. Its primarily due to the set of features Magento comes packed with that ensure optimal performance for your store. Let's take a look at these features.
Low Expense: The set-up and running costs associated with Magento are quite low. Main 3 versions of Magento include -
Magento Community Edition
Magento Enterprise Edition
Magento Go
Out of these, Community Edition is free while rest two are available for a fixed price. Some initial expenses related to hosting, domain registration, custom theme development etc., may be applicable. However, these small investments would be nothing in comparison to the tremendous gains you would be reaping once your store is up & running; precisely, it would be an excellent ROI situation by all means.
Hassle-free Task Management: A Magento store facilitates better communication and customer support possibilities. Optimal customer fulfillment is assured with multiple language choices, currency conversion and account production. Merchants also find the following tasks a lot easier
Adding product images
Producing brochures
Inventory management
Advertising & promotion management
Order & delivery management
Payment scheme management
SEO Aspect Fulfilled: Correct SEO is a necessity to ensure improved traffic results for your e-commerce website. However, you need not think much about your Magento website SEO as this powerful platform comes with robust marketing & SEO tools that ensure better visibility for your website over search engines. Also, you can integrate Google Analytics for better analysis of the site traffic besides understanding client's behavior. In this way, it also saves your time that would be spent in creating meta tags, descriptions, SEO optimized URLs, URL rewrites, navigation & category structures, site maps etc.
Easy Third Party Apps Integration: Its the service provider only who can control third party apps integration in case of other e-commerce platforms; there may be a substantial price applicable as well. A big thanks to Magento's extensible API, you can connect to the app/plugin as per your choice without requiring to pay anything.
Common Backend System: Imagine having one remote for controlling your TV, music system, DVD player; it would be definitely more convenient than handling three separate ones. With Magento, you can have somewhat the same for monitoring your different Magento stores. You can have a common backend/admin panel to control them all.