Every business owner is excited to promote his business. In the current business scenario, every business owner feels the need of continuous advertisement. And this need has been well addressed with Google AdWords Campaign. But there are a few things which you must know before you are going to start with Google AdWords Campaign. Considering these things, you can reap maximum benefits from AdWords Campaign.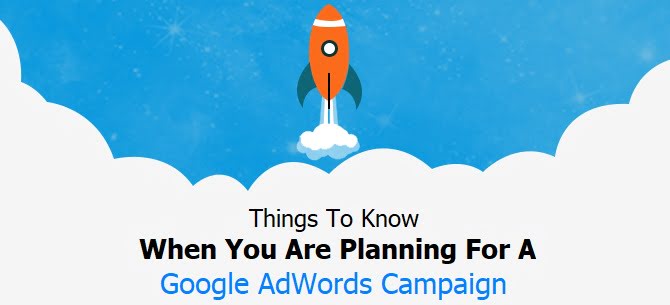 1. Understanding Customer Demand: Suppose you are running a campaign but people are not interested in your offering and they are not searching your products and services, then it's nothing more than wasting your money. Before investing in paid campaigns, you first need to understand the customers' demand and the interests and after analyzing the facts, you need to plan the campaign accordingly. You can use Google AdWords Keyword Planner to know about the popular keywords and plan accordingly.
2. Finalizing Marketing Budget: After considering the targeted keywords, you should calculate your maximum budget which you are desiring to spend. The more competitive keyword you will select, the more you will have to pay. Apart from considering the popular keywords, you also need to plan the budget and the affordability for that keyword. You can calculate your maximum CPC plan by using the formula -
Maximum CPC = (profit per customer) x (1- profit margin) x (website conversion rate)
3. A Unique Selling Proposition (USP) Can Boost Up Your Sales: To rise above the market competition, you need to develop unique USP in order to grab the attention of the online visitors. USPs can be created by considering your company's strength, product advantage, addressing the needs of the customers and so on. A strong and thoughtful USP has the capability to grab user's attention and drive more traffic. Including the USP in your PPC campaign helps in getting more conversions. Including a perfect call to action button along with USP is a great strategy to get more conversions.

4. Making Creative Ads: When you are running a PPC campaign, you are paying a certain amount on per click basis. You need to make your ad creative so whenever a visitor clicks on your ad, it arouses a curiosity in his mind to explore your products or services. The first thing in online marketing is engagement. Without creating a buzz or engagement you are unable to get an advantage over your competitors.
Google AdWords planning needs an extensive research and deep market analysis in order to generate maximum ROI. If you are seriously thinking about it to boost up your sales then you should consider hiring the services of a reputed PPC agency in India to achieve your business goals.