Popularity of videos is increasing fast & quite positively. Compared to ordinary posts, videos are more eye-catching and appealing to users. As per the current scenario, internet marketing services providers are employing videos to drive substantial favorable results for the campaigns they handle. Almost 93% internet marketers are already leveraging the power of videos for online marketing and communication. Following figure should clarify the current situation of video marketing a bit.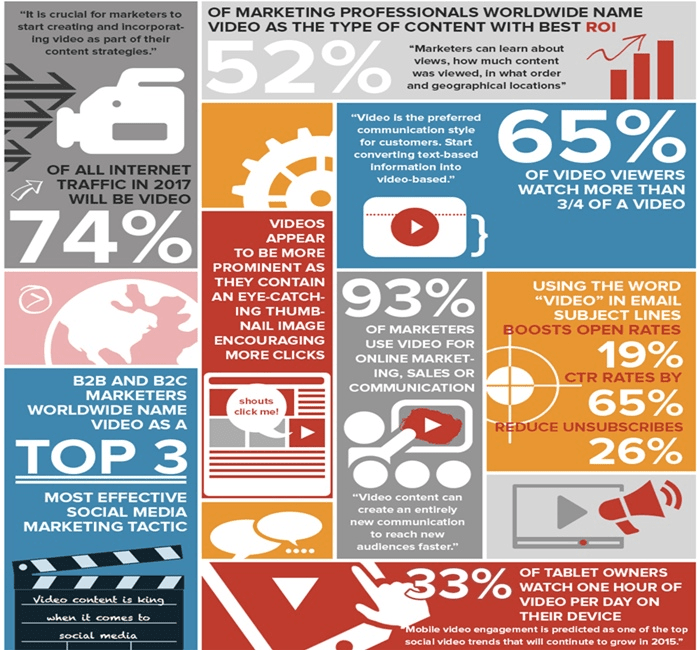 Analyzing the Scene for Video Marketing in 2015...
The craze for videos can be known by the fact that 33% of tablet device users watch one hour of video on their device every day. Analyzing user preferences brings out the fact that users like watching & sharing interesting videos that appeal to them. Why videos are crucial for your marketing strategy can also be understood from the following figure.
Moreover by 2017, 74% of the total internet traffic will be video. Hence, making videos an integral part of your content strategy will really help. Due to diverse nature of video content, these can be employed in a number of ways. You can embed these on websites, share them in e-mail campaigns, train sales team etc.
It would thus be fair enough to predict that year 2015 will be an year of video marketing as number of video watchers will consistently go up this year and the coming years. Mobile devices have become the ultimate gadget for watching videos and at present more than 20% video views happen over one or the other mobile devices.
Also in the coming year, around 58% of the top-notch firms will have better grasp on marketing automation technology, thus causing the adoption of this crucial technology to rise by 50% in 2015. Businesses adopting this technology would go for a more innovative approach, integrating their video content and marketing automation systems (MAS) together. Results obtained from these MAS-integrated videos will be moreover phenomenal.
Premium Digital Video Programming Too will Play Decisive Role...
Original digital content is growing fast. Even the greatest content creators are now dedicating efforts to producing digital-only shows in an endeavor to target exclusively digital audience with help of quality content. This trend is expected to grow in 2015 too.
Also, users inclination towards online video services like Netflix will cause companies to move funding from TV ads and produce digital content that provides effective insight to users. Moreover, companies will employ more of interactive videos as a robust tool to communicate with customers. Indeed 2015 will be an year in which internet marketers will realize the actual power of interactive videos and use them in their marketing strategy.